Nutri Natters
Rita's blog for lovers of real food
---
Ritatouille- my version of a classic French summer stew
29th June 2020
Aubergines, courgettes and tomatoes are abundant and cheap at this time of year. You can create this classic French summer stew in your own kitchen with local, seasonal produce. The gorgeous colours and aroma are evocative of lazy days in sun-drenched Provence. My apologies to French language purists for my take on the name of the dish!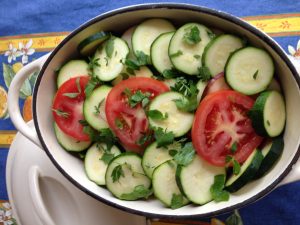 Ritatouille: courgettes, onions, tomatoes and aubergine – a classic combination
Ritatouille (makes 4-6 servings)
1 large aubergine
2 courgettes
1 onion
1 large green or red pepper
3-4 large, ripe tomatoes (skinned)
A handful of torn basil leaves
2 bay leaves
1-2 garlic cloves of garlic
black pepper
1 tablespoon of olive oil
what to do:
To skin the tomatoes, slit the skin and steep in boiling water for about 5 minutes; the skin should peel off easily. Roughly chop all of the vegetables. Gently heat the oil in a large pan. Add the onions and sweat them for a few minutes on a medium flame. Add the rest of the vegetables and stir them together. Throw in the herbs. Lower the heat to a gentle simmer and place the lid on the pan. There shouldn't be any need to add stock or water, as the vegetables make their own sauce, but add some if necessary. Place the lid on the pan and cook for 40 – 60 minutes, stirring occasionally. It can also be cooked in the oven in a covered casserole dish (180 degrees C for about 40 minutes) . Add the crushed or chopped garlic at the end of cooking and remove the bay leaf before serving.
This stew tastes even better if eaten the next day; it is also good served cold. Try it with grilled chicken, white fish or a herb omelette and new potatoes.
Rita


3rd September 2021
---
1st September 2021
---
29th October 2020
---
29th June 2020
---
18th June 2020
---
Categories