Nutri Natters
Rita's blog for lovers of real food
---
Christmas mince pies with gluten-free almond pastry
5th December 2019
Mince pies are my favourite Christmas treat, yet I'm often disappointed when I bite into commercially produced varieties. You just can't beat home-made!  This recipe makes a  delicious, melt-in-the mouth mince pie with gluten-free almond pastry. It's worth paying a bit more for a jar of good quality mincemeat that doesn't stint on the fruit; I like to add some chopped nuts to mincemeat for a bit of crunch.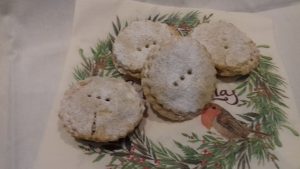 melt-in-the mouth almond pastry

Almondy gluten-free mince pies (makes 6-8)
100g/4oz gluten-free self-raising flour mixed with 1 dessert spoon of ground almonds
or 100g/4oz gluten-free plain flour mixed with 1 dessert spoon of ground almonds and 1 teaspoon of gluten-free baking powder
50g/2oz butter
2 -3 tbsp cold water
200g/8oz mincemeat (add 1 teaspoon of mixed spice, 1 dessert spoon of chopped nuts and 1 dessert spoon of brandy, if liked)
Some milk (cow's, coconut, rice, almond) to glaze or you can use an egg wash made of beaten egg and a few drops of milk
Icing sugar
Equipment needed: mixing bowl, rolling pin, round pastry cutters, patty tin for at least 8 pies

Heat the oven to 170 degree C/325 degrees F/Gas 3. Measure your flour and almond into a bowl and mix well. I find that self-raiding flour gives the lightest pastry  but you can use plain flour with baking powder added, if that's what you have in the cupboard. Lightly rub the butter into the flour until it resembles fine breadcrumbs. Mix in the water with a knife being careful not to make the mixture too runny- you should be able to gather it into a ball of soft dough with your hand. Knead lightly for a few seconds on a floured surface then wrap in a damp tea towel and leave to rest in a cool place for about 30 minutes.

Knead the pastry again for a few seconds on floured surface and cut off about a third – set this aside for later.  Lightly roll out the remaining larger piece of dough on a floured surface using a rolling pin dusted with flour – you have to handle pastry quite delicately.  Use pastry cutters to make 6-8 circles to fit an oiled patty tin. Spoon some mincemeat into each pie. Take the remaining dough, roll it out and use a smaller pastry cutter to make circles for the lids.  Moisten the edges of each pie with water and place a pastry lid on top. Pierce each lid with a fork to allow steam to escape while cooking.  Brush each pie with your choice of milk or egg wash and bake in the pre-heated oven for 15-20  minutes until the pastry is golden.Allow to cool on a rack then dust with icing sugar.
Tip: Gather up any scraps of pastry, knead lightly and re-roll as above to make a few more pies.

Variation: Instead of a pastry lid, top your pies with chopped pecans or flaked almonds before baking.

Store the mince pies in a tin and eat within a few days. They freeze well.

Happy Christmas!
Rita

28th March 2020
---
16th March 2020
---
8th March 2020
---
26th January 2020
---
12th December 2019
---
Categories