Nutri Natters
Rita's blog for lovers of real food
---
Jewel Salad
8th April 2020
Gone are the days when salad meant a  limp lettuce leaf and a few slices of cucumber. And salads aren't just for summer. Read on for ideas on how to rustle up a super salad to cheer up your plate and tempt your palate any time of the year.
Here's a quick way to make a crunchy salad with carrots, courgette, beetroot, and celeriac.  It takes minutes using a food processor, or if you're keen to build some muscle, grate the ingredients by hand. If you don't have all of the ingredients use any combination or just grate some carrots. Capers add a lemony zing. Here's how:


crunchy jewel salad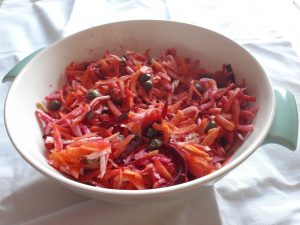 Jewel Salad
2 carrots, scraped
one quarter of a  medium celeriac, peeled
1 medium beetroot, peeled
1 small/medium courgette
1 small red onion, peeled
a tablespoon of capers 
optional: half a small fennel bulb
Process the carrots, celeriac, beetroot, courgette and onion using the grating disc attachment (amounts don't have to be exact). Mix the vegetables together, fold in the capers and empty into a serving bowl. It keeps in a covered dish in the fridge for up to three days. 
Make a dressing from 50ml of extra virgin olive oil or flaxseed oil, the juice of 1 lime or lemon, 1 teaspoon of mustard and  a clove of crushed garlic. Season to taste. Pour onto the jewel salad and mix well. Serve on a bed of  watercress or chicory leaves with fish, meat, eggs or mixed beans.

Not only does this jewel salad look and taste gorgeous but the rainbow colours tell you that it's bursting with health-protective antioxidants.
Rita

3rd September 2021
---
1st September 2021
---
29th October 2020
---
29th June 2020
---
18th June 2020
---
Categories