Nutri Natters
Rita's blog for lovers of real food
---
crunchy nut and seed granola
28th March 2020
This delicious granola is packed with satisfying oats, nuts and seeds to keep you going until lunchtime. Unlike most commercially available granola, there is no added sugar; the sweetness comes from fruit. Notice that there is a bigger ratio of nuts and seeds to fruit than in shop-bought varieties giving this recipe a reasonable level of protein. The low oven setting preserves the delicate omega-3 oils in the nuts and seeds, which spoil at higher temperatures.
Nuts and seeds are a good source of zinc to support the immune system
Serve with yoghurt, or milk, or a dairy milk alternative e.g. coconut, almond, oat or rice milks. This recipe makes approximately 8 servings. It also makes a delicious topping for stewed apple or other fruit.
Tip:Soaking the nuts and seeds in water for at least 8 hours helps to reduce the effect of phytic acid on digestion (see instructions below ingredients list).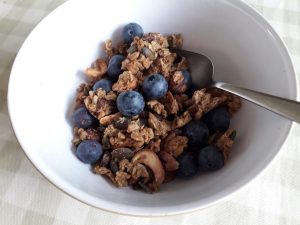 granola: crunchy and irresistible
Ingredients
115gr/4 oz jumbo or rolled oats (or gluten-free oats)
120gr/5oz chopped mixed nuts e.g. almonds, pecans, Brazils, hazelnuts
60gr/2¼ oz sunflower seeds
60gr/2¼ oz pumpkin seeds
30 gr/1 oz desiccated coconut
2 tbsp melted coconut oil or olive oil
1 pear, chopped (I often use 4-5 chopped dates instead of a pear)
1 tsp cinnamon
1/2 tsp ground ginger
4 tbsp apple juice (use water or a plant milk e.g. almond to reduce the sugar content of the finished granola)
60gr/2¼ oz sultanas or chopped apricots or other dried berries of your choice (soak the dried fruit in hot water for about 15 minutes to make them plump and juicy)
Tip: Phytic acid in nuts and seeds reduces the availability of minerals such as iron and zinc. To reduce this effect, soak the whole nuts and seeds in water overnight and drain before using.
What to do
Heat the oven to 150°C/300° F/Gas 2 and line a baking sheet with baking parchment
Chop the nuts roughly and place in a mixing bowl with the oats, coconut and seeds
Put the pear, spices, oil and juice or water into a blender or food processor and process until smooth
Pour this wet mixture over the oat/nuts/seeds mixture and combine thoroughly to ensure the ingredients are evenly coated. You may need to add a bit more liquid if the mixture is too dry
Spread the mixture onto the baking sheet and bake for 40-60 minutes until golden and crisp (it may need longer, especially if you soak the nuts and seeds beforehand). Enjoy that wonderful, spicy aroma wafting round your kitchen
Leave the granola to cool then stir in the sultanas, apricots or berries. The granola will keep in an airtight container for about 7-10 days.
Spread the love
Home made granola makes a very acceptable Christmas present: swap sultanas for no-sugar-added dried cranberries or Lexia raisins (don't forget to plump them up in hot water) and add some mixed spice for a festive touch. Pack the granola into an airtight container, such as a Kilner jar, tie a festive ribbon round the neck and give with love.

Rita

3rd September 2021
---
1st September 2021
---
29th October 2020
---
29th June 2020
---
18th June 2020
---
Categories